Buna! Inca nu m-am culcat pentru ca am tinut mortis sa termin de editat pozele si sa fac postarea saptamanala. Opaaa! Chiar in acest moment a inceput sa ploua. Yeeee! I loooove rain! Sper sa ploua ca lumea si sa fie mai racorica maine, adica astazi ca este trecut de miezul noptii deja. Apropos, ieri dimineata ma gandeam ca voi imbraca blugii si o pereche de incaltaminte mai de toamna fiindca plouase nitel dar apoi peste vreo ora observ ditamai lumina: batea un soare de toata frumusetea. Evident ca a fost o zi foarte calduroasa si ca m-am copt. Am avut si multe de facut, m-am si stresat cu o problema bancara si asta m-a facut sa ma incalzesc si mai tare.
Am obsevat ca am inceput sa fac mai poze mai des decat de obicei, asta datorandu-se jobului actual care ma obliga sa ma aranjez zilnic si sa ies din casa. De cele mai multe ori, folosesc telefonul, mai ales ziua si aparatul foto il pastrez pentru outfituri sau produse pe care vreau sa le prezint pe blog. Mi se pare mai usor cu telefonul pentru ca multa lume nici nu isi da seama ca fac poze plus ca optiunea self-portrait este tare handy cand vreau sa fac selfies.
Luni /

Monday
Ro: Wow! Doua inimi de-odata!
En: Wow! Two hearts at once!
Marti /

Tuesday

(2)
Ro: La treaba.
En: At work

.
Ro: Am arunat o privire in curtea cuiva. Ce dragut loc pentru a lua masa si a te relaxa vara!
En: I peeped into somebody`s patio. What a nice place to eat and relax during the summer!
Miercuri /

Wednesday

(2)
Ro: Buline kinda day :)
En: Polka dots kinda day :)
Ro: Un pranz colorat si delicios!
En: A colorful and delicious lunch!
Joi /

Thursday
Ro: Ne uitam pe fereastra din balcon.
En: Looking out the balcony window.
Vineri / Friday
Ro: Amandoi eram obositi dar am facut un efort si ne-am plimbat pe seara.
En: We were both tired but we made an effort and went for a walk in the evening.
Sambata /

Saturday

(2)
Ro: Ma prosteam in autobuz. Erau 3 persoane, cu mine inclusiv asa ca mi-am facut de cap :)))))
En: Fooling in the bus. There were only three people, including me so I did my thing :)))))
Ro: Am mers la biserica si am aprins doua lumanari.
En: We went to church and lit two candles.
Duminica /

Sunday

(2)
Ro: Iar am fotografiat sandalele cuiva :) Dar nu-i asa ca sunt frumoase?
En: I took pictures of somene`s sandals again :) But aren`t they pretty?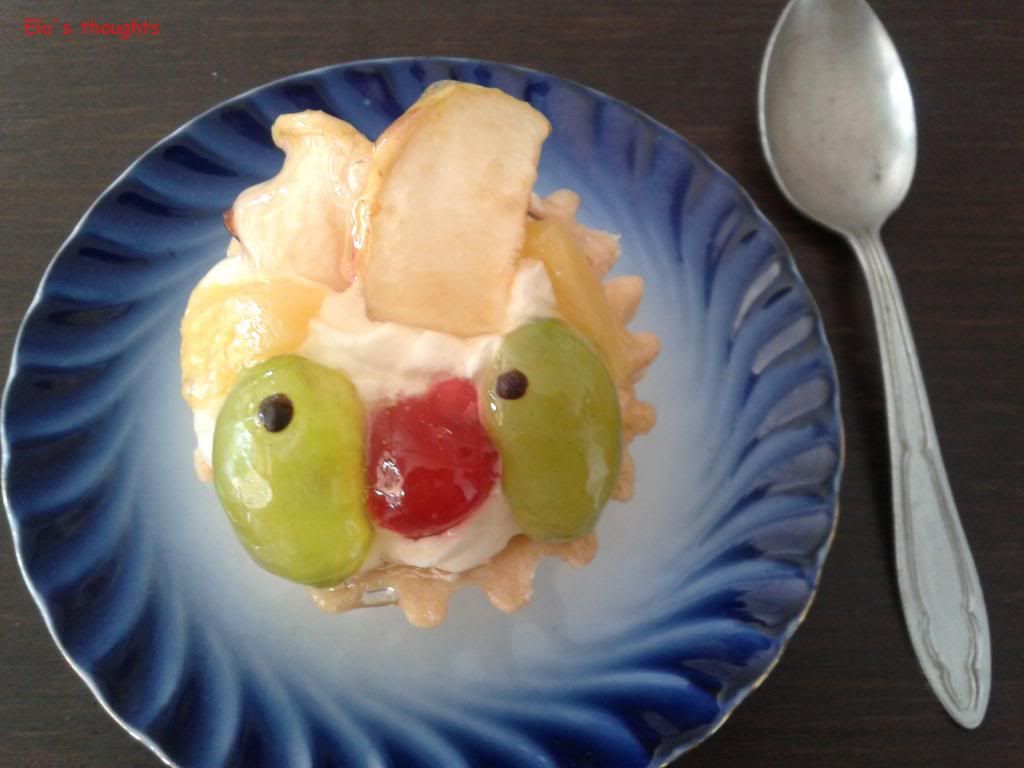 Ro: O tarta cu fructe haioasa.
En: A funny looking fruit tart.
Va pupacesc!
Pe curand...