Ro: Hey guys! Azi vreau sa va arat o tinuta pe care am purtat-o luna trecuta dar pe care nu am avut sansa sa o postez pentru ca nu s-ar fi potrivit deloc cu vremea rece si ploioasa care a urmat imediat dupa.
Este o tinuta simpla dar care are impact asupra celorlalti datorita imprimeului.
Cele mai simple tinute de vara sunt cele alcatuite cu ajutorul rochiilor, nu vi se pare? O pui pe tine si esti 90% gata! Bineinteles ca e nevoie sa accesorizezi cu bijuterii, geanta si pantofi dar acestea sunt foarte usor de stabilit odata ce te vezi imbracata cu rochia respectiva. De exemplu, in ziua aceea nu am avut chef sa ma gandesc prea mult la cum ma voi imbraca, asa ca am vrut sa gasesc ceva care sa fie simplu de realizat dar sa para complex si sa fie si dragut. Cum am obtinut asta? Cu ajutorul unei rochii din voal, cu un imprimeu incarcat cu figuri geometrice si volane. De aici totul a decurs foarte usor. Am optat pentru accesorii neutre ca sa nu iasa un haos. Cand aveti o rochie sau orice piesa vestimentara cu imprimeu care iese in evidenta, este de preferat sa echilibrati cu nuante neutre sau daca sunteti mai indraznete si vreti sa aveti un look mai picant, atunci alegeti o culoare care se regaseste pe acel imprimeu si accesorizati numai cu acea nuanta.

Eu am optat pentru cercei roz, culoare care se regaseste pe rochie, fara colier, fara bratari, doar un singur inel de argint cu o floare alba. Rochia are un cordon in acelasi imprimeu, pe care l-am dat jos si l-am legat la o geanta gri, m-am gandit ca asta ar da bine si ar fi mai interesant. Am accentuat talia cu o curelusa argintie pentru a sparge un pic acel aspect incarcat al imprimeului. In picioare am avut pantofi gri cu toc gros si asta-i tot! Sper sa va placa si sa va inspire!
En: Hey guys! Today I want to show you an outfit that I wore last month but I didn`t get the chance to post it because it wouldn`t have been suited for the cold and rainy weather from the following days.
It`s a simple outfit but it has impact on people because of the print.
The summer outfits that are the easiest to put together are dresses, don`t you think? You put it on and you`re 90% ready! Ofcourse, you need to accessorize with jewelry, a bag and shoes but these are so easy to match once you see yourself dressed. For example, that day I didn`t really feel like thinking too much about what I`m going to wear, so I wanted to find something that would be simple but seem complex and to be pretty as well. How I got that look? With a veil dress that has a geometric print and ruffles. From here everything went on very easy. I opted for neutral accessories to avoid chaos. If you have a dress or any clothing item that has a print that stands out, it`s preferable that you balance everything with neutrals and if you are more confident and want to spice things out, then choose a colour that can be found on your print and accessorize only using that colour.
I chose pink earrings, this colour is on my dress, no necklace, no bracelets, just a silver ring with a white flower. The dress has a strap with the same print as the dress but I didn`t use it on my waist, instead I tied it on a grey bag. I thought that was a nice touch and that it woul be more interesting. I accentuated the waist with a silver belt to break off that busy print. I wore grey shoes with a thick heel and that`s it! Hope you`ll like it and maybe get inspired by it!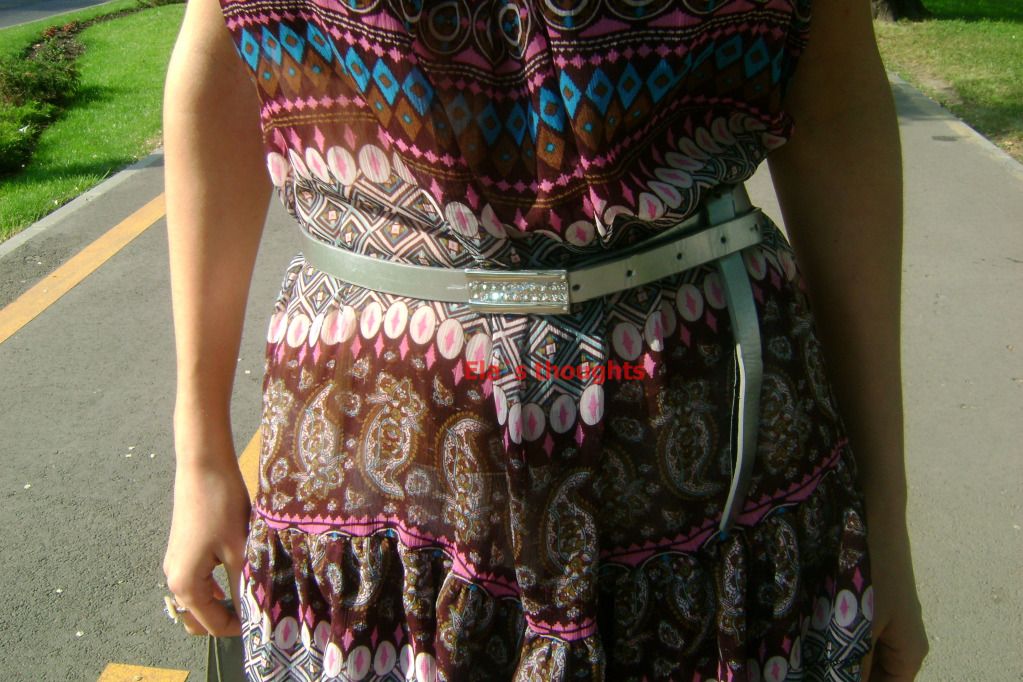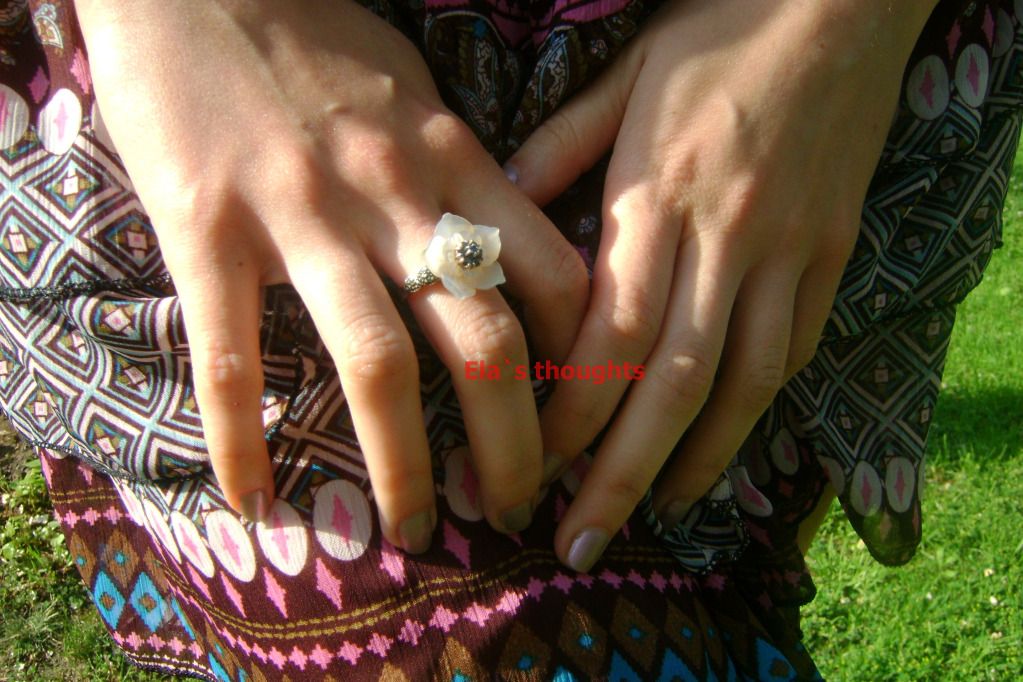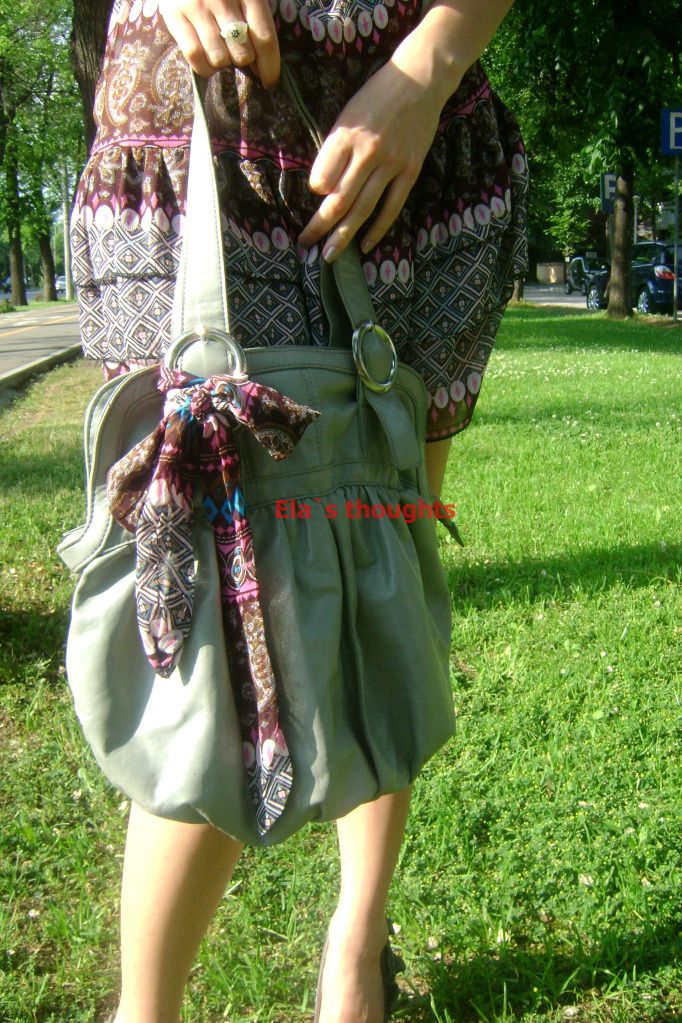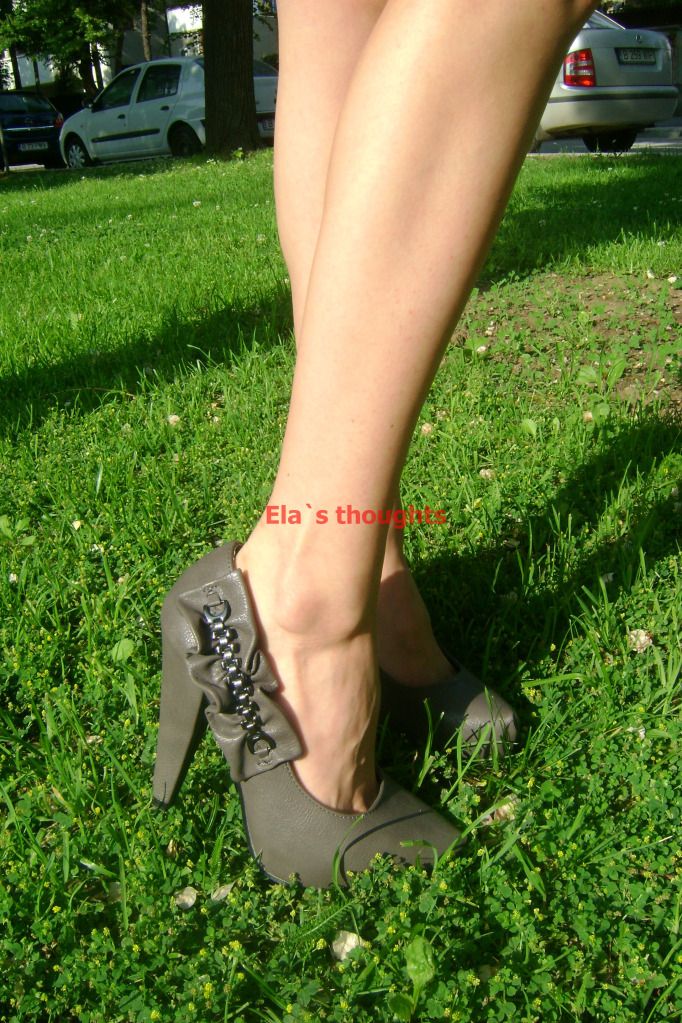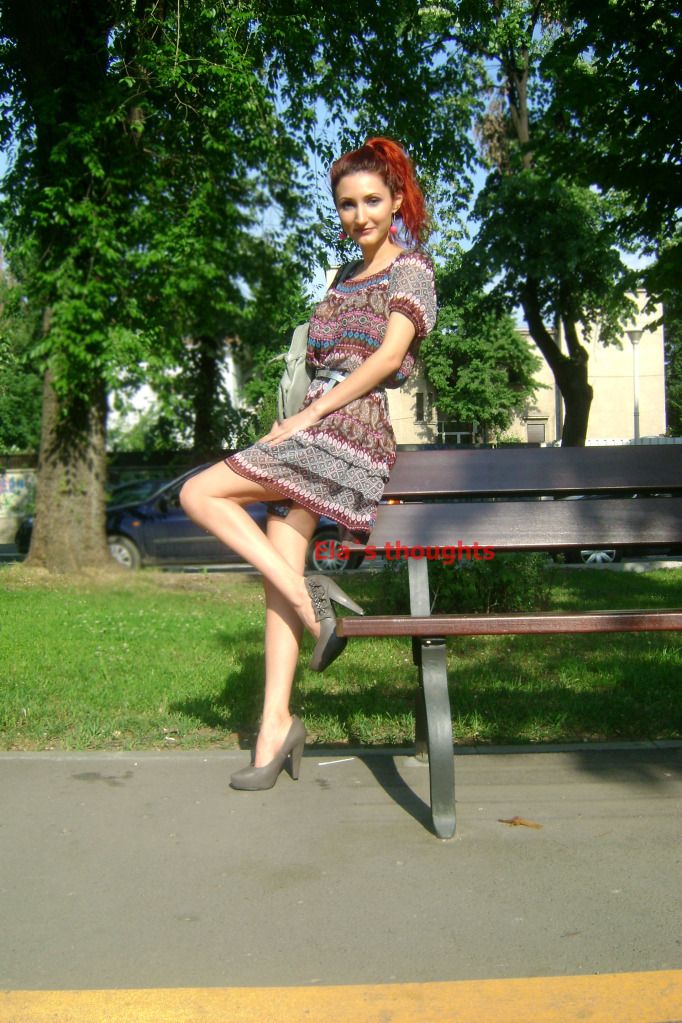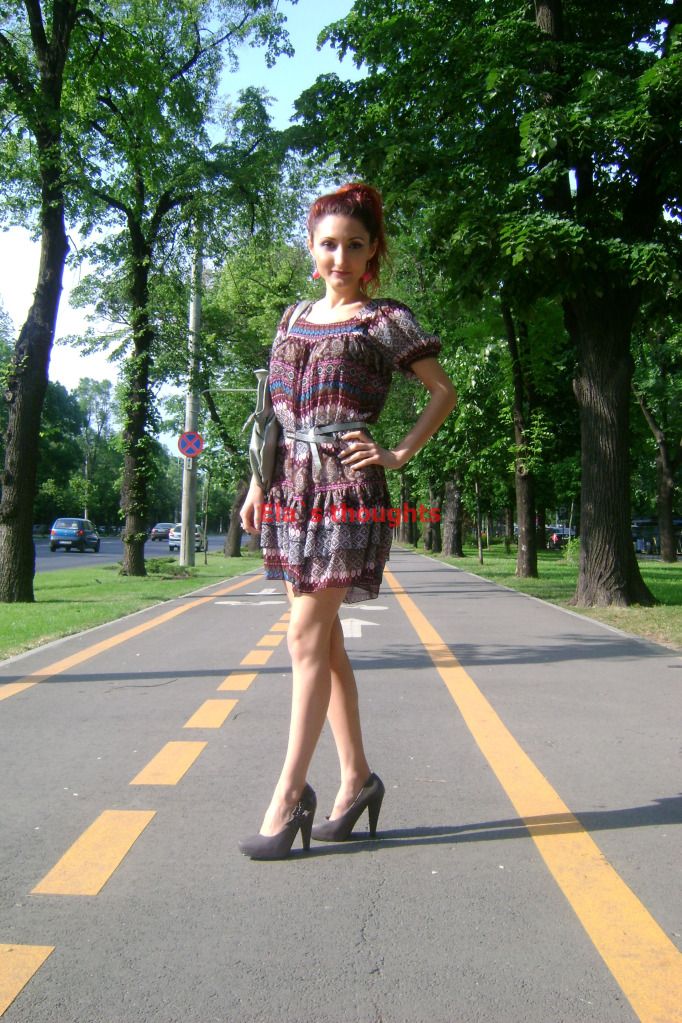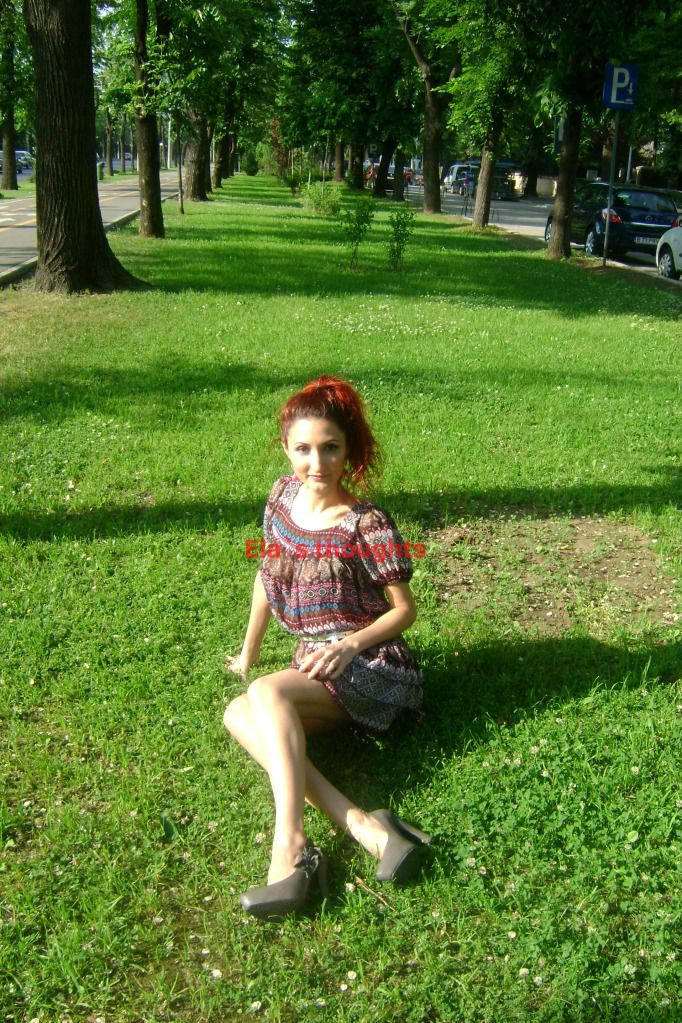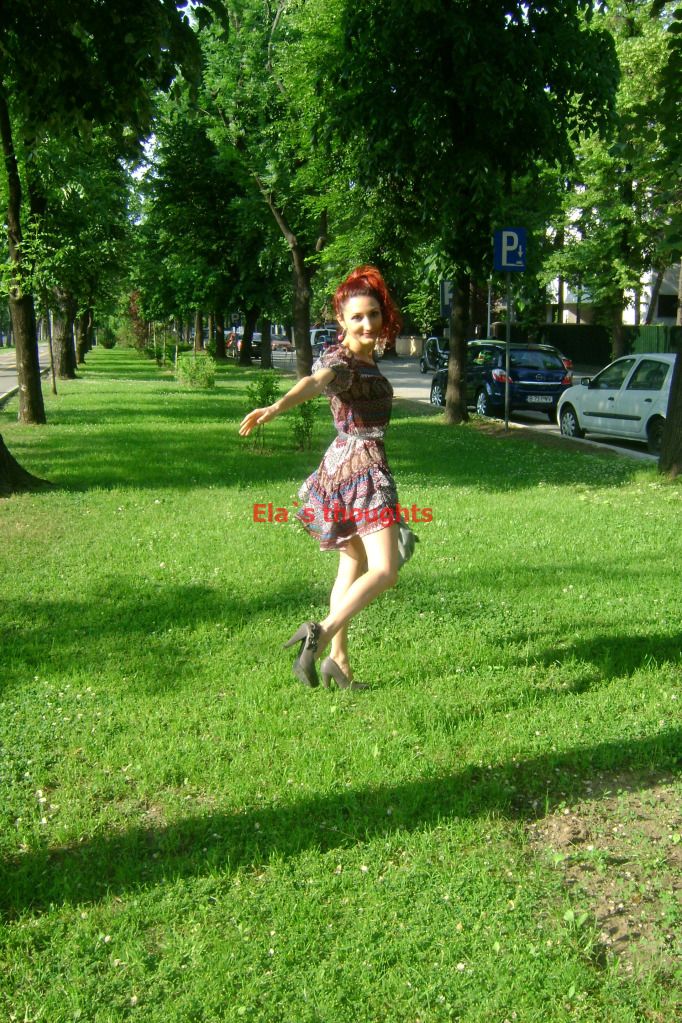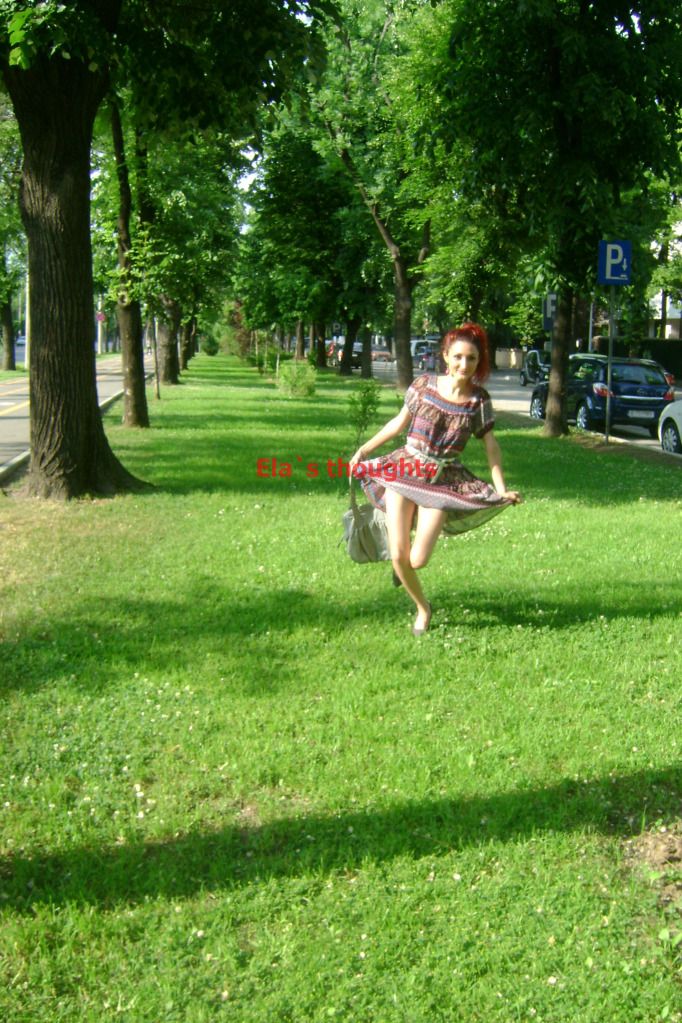 Ro: Rochie - Gialily
Ring - No name
Si cu aceasta ultima poza va spun la revedere. Sa aveti o zi frumoasa! Vorba lui Andi Moisescu "Ma inclin".
Pe curand...